This event has already occurred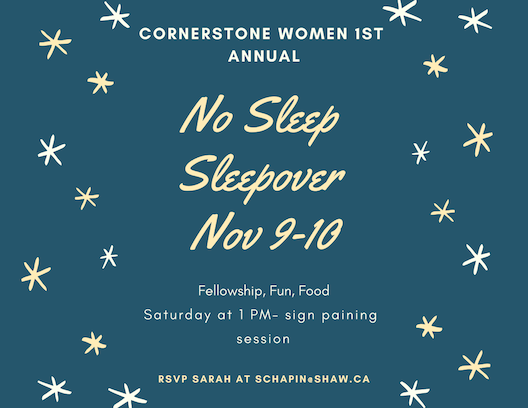 Save to your Calendar
Starting at 7:30 Friday night we will gather at Lana Miller's place for a time of fellowship, food and fun! We'll play games, have a devotional and a sundae bar with all the fixin's.
The following morning we will have brunch together and at 1pm on Saturday we will have another sign painting (or doormat) session- this time Christmas themed if you so choose (cost approx $40-$50).
Come for part or all events.
RSVP required for this event as well as registration for the sign/doormat painting as space is limited.
What to Bring:
Pillow, sleeping bag, foamy
Games, Bible
Sign up to bring a snack/appetizer to share, or a brunch item
Sign Painting/Doormat painting
Cost is $40 for a sign and $50 for a doormat (payable on the day of the event)
Items to choose include- 2- 14x14 signs, 1-16x26 sign , 1- serving tray 12x20 =$40.00
Or 1 doormat 24x36 = $50.00
Company providing the painting session is called Nakedpallet (FB site: https://www.facebook.com/nakedpallet/)
Various options for quotes and colours for background and frame- contact Sarah Chapin for more details [email protected]
RSVP by November 5th to Sarah Chapin- [email protected]